The gaming scene isn't just confined to one particular console or the home computer. In fact, with so many options available, it can seem difficult to narrow down the plethora of WW2 games to just a select few for one or two particular systems. However, I've compiled a list of what I believe are the best select titles worthy of your consideration. What are they? Let's find out.
10. Turning Point: Fall of Liberty (PS3)
In last, but certainly not least, place is Fall of Liberty for Playstation 3. It is not a historically accurate game per se, but rather plunges players in a world of "what ifs". The particular question that the game begs is what would have happened if Hitler seized key Asian and European locations, then brought the Nazi machine to the United States of America? Here, players aim to answer this question by assuming the role of Dan Carson who works in New York City as a general labourer. During the course of one of his projects, he becomes the "defender of the skies" as Zeppelins fly overhead. Unfortunately, this seems to be the game's only true point: blimps, more blimps, and taking down those blimps. From a gameplay perspective, the game handles awkwardly, too. There is a hand icon that players must get to appear before they use an actionable item. The game is sensitive to the slightest movement, so unless players are in an exact spot, then the icon won't appear. Quite frustrating!
Fall of Liberty is otherwise quite a presentation of eye candy. It's by no means the strongest visual package on the list, but does make good use of the hardware that's available to the Playstation 3. There were a couple instances of framerate stutter, but these happened during cutscenes. The gameplay itself is smooth and fluid.
Unfortunately, critics haven't been too accommodating for this game. It's certainly worth trying out and deserves an honourable mention as one of the best WW2 games out there, but it won't meet the needs of those seeking historical accuracy. However, it does serve the viewpoints of those who prefer alternative thought processes that might have changed the face of the world as we know it today.
IGN Score: 5.0
Personal Score: 6.0
Age Advisory: Teen (North America), 16+ (Europe)
Release Date: February 26, 2008 (North America), March 14, 2008 (Europe)
9. IL-2 Sturmovik: Birds of Prey (Xbox 360)
Birds of Prey isn't the typical action game that players would expect to be featured on a top 10 list. In fact, it's best described as a flight simulator with a few combat elements: similar to Microsoft's Combat Flight Simulator that dominated the early Windows gaming scene. While many gamers would opt to leave this title off of such a list, I've included it because its elements are executed almost flawlessly and it provides gamers with a solid aerial experience that might suit the preferences of some players. Here, players will take to the skies during The Battle of Stalingrad and pilot either Nazi or Allied planes.
Birds of Prey is an excellent visual presentation, which is perhaps its main redeeming quality to make it worthy of being on this list. Developers paid close attention to their models and even included accurate hit counters. When players take damage or deliver damage, they'll be able to see where they're dishing it out. This is especially true of Spitfires, which show this damage with high levels of detail. However, the game also includes the "serial numbers" of each plane during the battle as a means of identifying friends and foes. With over 100 planes flying at any given time, this can make for a very clustered and distracting battle.
Ultimately, Birds of Prey gives players an exceptional aerial combat experience in a very arcade-like fashion: something that's rarely seen in video games today. It would be very much worth a prospective purchase if players find themselves interested int his particular means of battle, rather than the land-based warfare that dominates the scene.
IGN Score: 8.4
Personal Score: 8.5
Age Advisory: Teen (North America), 7+ (Europe)
Release Date: September 08, 2009 (North America), September 04, 2009 (Europe)
8. Brothers in Arms: Hell's Highway (Xbox 360)
Moving onto the games that actually contain a sense of historical accuracy, Brothers in Arms leads the way in this department. It follows the stories of the 502nd Parachute Infantry of the 101st Airborne Division, who fought in France during World War II. However, while the majority of top WW2 games focus on the successes of the Allies, Hell's Highway appropriately delivers players into one of the Allies' biggest failures: Operation Market Garden, which was one of the last big wins for the Nazis during the war. Gameplay wise, players will be treated to a very thoughtful and methodical gameplay experience. It's not enough to simply "run and gun" in this game. Instead, players must actively make use of trenches and other cover that's available to them to ensure their survival. They'll also have to command their teammates, but unfortunately the AI doesn't quite respond how players would expect them to. In many cases, teammates simply run to their death under the "orders" of players.
Hell's Highway is an acceptable visual experience, but I can't help but feel there's a sense of cartoon-like graphics to the game. Some of the most gory elements of the game were animated in such a way that it takes away from the realism factor of the game and lowers my opinion of it quite a bit. Without this childish presentation, Hell's Highway would have easily ranked within my personal top five.
Nonetheless, Hell's Highway serves the needs of those who demand historical accuracy in their video games. It provides a solid experience despite a few pestering issues, but is by no means the best within this category. Is it worth checking out? Absolutely.
IGN Score: 7.6
Personal Score: 8.0
Age Advisory: Mature (North America)
Release Date: October 07, 2008 (North America)
7. Return to Castle Wolfenstein (PC)
Return to Castle Wolfenstein was the much-awaited revival of the father of all first person shooter games, Wolfenstein 3D (1992). However, where it exceeds in some areas, it catastrophically fails in others. Its multiplayer mode is held as one of the best WW2 gaming experiences on the PC to date and is what the world had to experience during its beta stages before it was officially released. Its single player mode, when eventually released, left quite a bit to be desired though. It's by no means a poor package, but it doesn't live up to the added excitement that the multiplayer mode has to offer.
Visually, Return to Castle Wolfenstein is great. The texture models were all polished and look stunning. Developers also went out of their way to animate lip movements when characters are speaking. While the results weren't anywhere near perfect, they do add quite a bit to the overall ambiance of the game. The level design was also quite good, too. They break free from the fanciful, multicoloured hallways of yesteryear and create a sort of dark, moody setting that players might have expected from the original game.
Return to Castle Wolfenstein's real value lies within its multiplayer mode, which is pretty typical of video games today. It's unfortunate that its single player mode didn't quite live up to my expectations, but I'm still content to play Wolfenstein 3D when I truly need a Wolfenstein fix.
IGN Score: 9.0
Personal Score: 8.0
Age Advisory: Mature (North America), 15 (Europe)
Release Date: November 19, 2001 (North America), November 30, 2001 (Europe)
6. Day of Defeat (PC)
Many of the best computer games of today started out as "homebrew" projects and modifications. Day of Defeat is one of the brightest stars in the bunch. What started as a mod for Half-life grew in popularity to the point that Activision developed it into a standalone retail game. It is a multiplayer only first person shooter that puts players in control of various classes of characters within the peak of Western Europe's involvement in World War II. However, players won't be treated to much historical accuracy in this game. Much of the gameplay modes involved, such as capture the flag, are commonplace in today's first person shooters.
Given the age of the game, Day of Defeat is an acceptable visual experience. Players shouldn't go into the game with the highest of expectations, but it will play on the majority of computers in existence today, which can't be said for a lot of recent computer games! There are also official Mac OSX and Linux releases, which makes the title one of the most widely-played games on the home computer.
With such an involved community of players, it would be hard to go wrong with Day of Defeat. Players won't be hard pressed to find chaotic action at any time of the day, which is why the game is held in such a high regard by so many players.
IGN Score: 8.0
Personal Score: 8.5
Age Advisory: Teen (North America)
Release Date: May 01, 2003 (World)
5. Medal of Honor: Airborne (Xbox 360)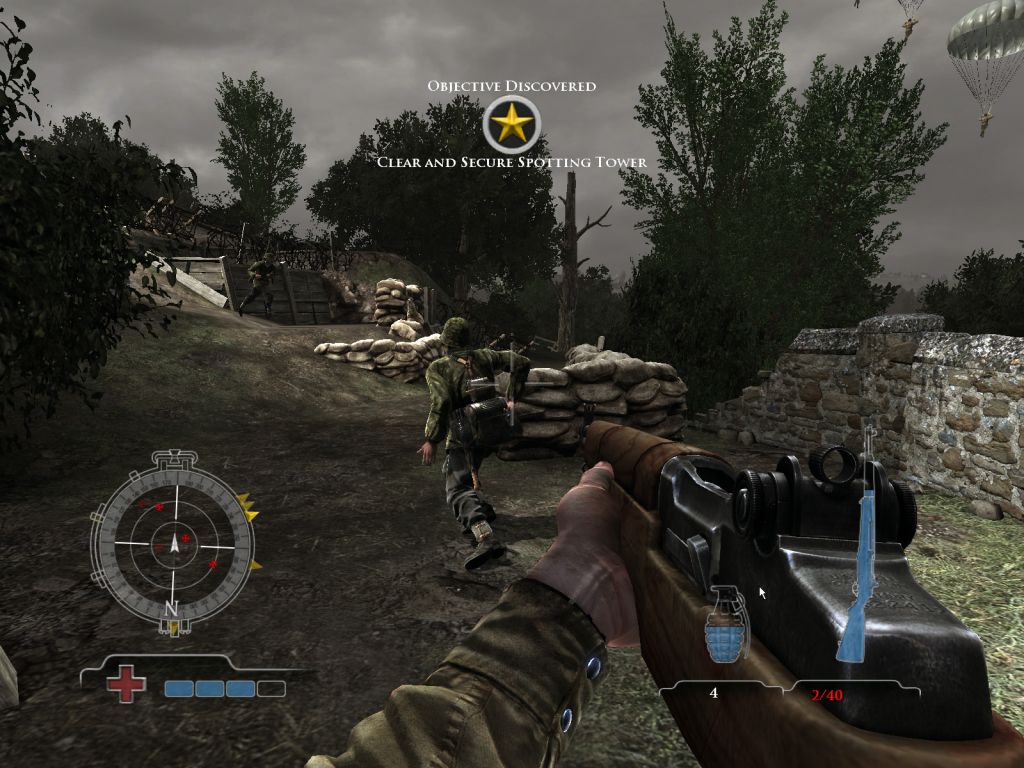 Airborne is perhaps one of the most well-respected titles when it comes to the best WW2 games of any console. However, the Xbox 360 release stands out as the most formidable editions that players can buy. Like its Playstation 3 counterpart, it's simply one of the best options that players can come across and is only held back by the fact that there are such discrepancies between the two editions. However, owners of the Xbox 360 are in for a treat when it comes to this game. It boasts a rather unique way of starting levels. Instead of the typical "A to B" approach that most first person shooters use, players parachute their way into each level as a representative of the US 82nd Airborne Division. This means players have the freedom to choose where they'd like to start and can adjust their own difficulty levels accordingly. However, players shouldn't get used to the idea of using this to their advantage. Enemies respawn regularly and players must progress through the level in order to get them to stop. It's not possible to snipe and beat the game without any sort of resistance!
The graphics of the Xbox 360 are comparable to those found in the Playstation 3 release, but the edge is given to this particular edition because there is a much smoother framerate. Some players found that the Playstation 3 edition was prone to framerate stutter. This isn't the case for the Xbox 360 edition, which plays flawlessly throughout.
Being able to choose my own starting point was the key motivation behind ranking this game so highly. This innovative inclusion gave the title such an added sense of replayability that I found myself coming back for more when all was said and done. I just wish the Playstation 3 version played as well as the Xbox 360 release.
IGN Score: 7.9
Personal Score: 8.0
Age Advisory: Teen (North America), 16+ (Europe)
Release Date: September 04, 2007 (North America), September 07, 2007 (Europe)
4. Battlefield 1943 (PS3)
It would be hard to create a list of the top 10 WW2 games without including Battlefield 1943. This game began as a modest two-dimensional idea that rapidly evolved into one of the hottest games on the modern scene. It is a digital release available through the Playstation Network and boasts near retail-quality graphics throughout the game. While this game won't set any new benchmarks in terms of gameplay, it does offer a refined experience that touts classic first person shooter elements with flawless precision. 24 players are allowed to participate in a match that's set within The Pacific Theater of Operations.
Battlefield games are well-known for their vehicles and 1943 is no exception. It's here where players find the best visual elements, too. The spectacular detail given to the game's tanks, jeeps, and other military arsenal is unmatched in the gaming world at the present time. Yes, there are some elements of shadowing and pixelation, but it is otherwise a solid graphical presentation.
When it comes to multiplayer WW2 games on the console, Battlefield 1943 stands out in a league of its own. Its simple mechanics are accessible to even the newest of players in the FPS genre and it holds its position well within the top five of all World War II video games.
IGN Score: 8.5
Personal Score: 9.0
Age Advisory: Teen (North America), 16+ (Europe)
Release Date: July 9, 2009
3. Battlestations Midway (Xbox 360)
For those with a strategic mind, Battlestations Midway is a game that's likely to ring a few bells. It is one of those games that simply doesn't fit into any one category. It's too action packed to be a strategy game, whereas there's too much strategical thought needed for it to be an action game. This means the game has a relatively high learning curve, but the end result is ultimately rewarding for those who excel in more mindful video games. Players will begin by assigning their arsenal an attack plan, then be given the option to pilot one of the leading vehicles throughout various campaigns in the Pacific Theater of Operations.
Battlestations Midway doesn't present the most awesome visual experience, but does make passable use of the hardware available to the Xbox 360. Colour palettes occasionally appear washed out, but are redeemed by the infrequent cinematic scenes that are very well-executed. However, there aren't very many of them, so whether this is a redeeming quality or not is questionable.
Battlestations Midway nonetheless deserves its third place position on this list. It is such a standout game that rises above the typical "spray and pray" video games that dominate this niche. It's definitely worth picking up!
IGN Score: 8.5
Personal Score: 9.0
Age Advisory: Teen (North America), 12+ (Europe)
Release Date: January 30, 2007 (World)
2. Call of Duty 2 (Xbox 360)
Call of Duty is one of the most recognized names in gaming today. The series has evolved from its humble World War II roots into the "Modern Warfare" sagas seen today, but its earliest releases are still quite hard to beat when it comes to this particular niche. Like other games set in the Second World War, Call of Duty 2 is mostly focused on the Battle of Stalingrad, but also includes a few select French campaigns. It is a fiercely chaotic experience that provides little "rest time" for players: its nonstop action is sure to satisfy those with a restless trigger finger.
This particular release was developed along its PC counterpart. This meant no special effect or graphical tweak was spared from being included in the Xbox 360 release. The result? A stunning visual experience on 1080p when connected through a HDMI cable, but lower HD settings also provide exceptional clarity and eye candy. Interestingly, smoke grenades were given quite a bit of attention as they completely immerse players in a fluid, lifelike fog where players won't be able to tell friend from foe. When in a smoke cloud, players have mere seconds to choose whether they eliminate a nearby ally or enemy.
Call of Duty 2 was one of the release titles for the Xbox 360, but it's still quite a difficult game to top. Its depth, visuals, and ferocious intensity make the game an almost flawless experience hindered only by its ultra-focused campaign. It is certainly worth a purchase though.
IGN Score: 9.0
Personal Score: 9.5
Age Advisory: Teen (North America), 16+ (Europe)
Release Date: November 22, 2005 (North America), December 02, 2005 (Europe)
1. Call of Duty: World at War (PS3)
At the top of the heap is Call of Duty: World of War. Yes, it is yet another Call of Duty release to make this list, but offers players a modern take on its classic idea by fusing the Modern Warfare system into a World War II setting. The end result takes players back to the series' original roots while remaining fresh through a contemporary design.
World at War is perhaps the most impressive experience when it comes to WW2 games on a console. Like other games in the Call of Duty series, players must push forward through a series of obstacles without becoming entrenched along the way, which will cause enemies to respawn after players have eliminated them. The game is set in the less popular campaigns throughout the Second World War, but also includes popular features such as the Battle of Stalingrad.
The level of visual detail is stunning. Graphics are detailed and refined to the point where seams of clothing and facial dimples are visible on even the smallest of television sets. This detail is also afforded to the gory elements, too. However, this leads to a warning in and of itself: players should be wary about the high level of gore in this video game. It would be unsuitable for younger or sensitive players.
Fortunately, World at War has a little bit for everybody. It is the most well-rounded package on offer for Playstation 3 WW2 games and indeed the gaming scene at large. This isn't just my opinion, but the opinion of many critics, too. If players are looking for the best possible WW2 experience on their PS3, then they needn't look any further than this top WW2 game.
IGN Score: 9.2
Personal Score: 9.5
Age Advisory: Mature (North America), 16+ (Europe)
Release Date: November 11, 2008 (North America), November 14, 2008 (Europe)